Pilates Classes
At North Cornwall Pilates I run Body Control Pilates MAT Classes at venues throughout North Cornwall at various levels
My aim to ensure my clients go home after class with a better understanding of their body and how it works. I encourage everybody to carry on exercising at home as and when they can to achieve maximum benefit of what they learn in classes.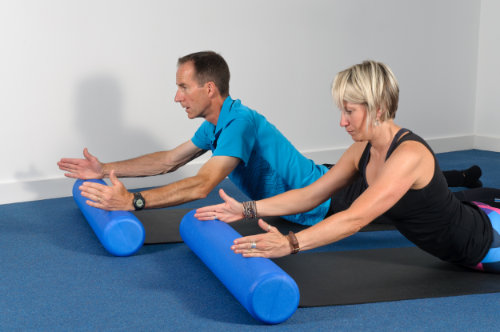 Our class types and locations are listed in the table below:
Click on the day to see what is avaliable
Directions, select the name of the location
All classes are progressive moving clients forward at an appropriate pace to ensure they are moving safely but improving their individual strength, range of movement and stamina. Although in a class based structure the clients within my classes are all individuals with in some cases specific requirements. These requirements, be it related to a current an injury, past accident/injury or ageing process related I aim to meet by giving variations to exercises and in some case a completely different exercise.
I supply all the equipment required in class,  Mats, Cushions and any specific equipment such as Rollers, Bands, Small Hand Weights, Circles and Small Balls. The small equipment is provided to add challenge, improve alinement, work on balance and challenge core stability.
Tariff and Conditions
Arranged in terms throughout the year, each term corresponding approximately to the local schools half-terms (so typically comprising between 5 and 9 sessions). The sessions are booked as a block and paid for in advance at the beginning of each term.
A 1 1/4 hour session equates to £9, so the actual amount payable per term depends on term length – A 1hr session equates to £8.00, so the actual amount payable per term depends on term length
If you have booked a group class for a term but cannot make all of the sessions, you may attend any of the other classes currently running, providing there is space and the level is appropriate. Otherwise, refunds are not available.
If you usually attend a class but cannot make a whole term, a drop-in fee of £11 or £9.50 per class may be made with prior agreement. This will not guarantee your place in future terms though – the only way to ensure your space is to pay for each term in full.
Private sessions last 1 hour and usually take place within your home.
1 person £40
Additional People £6 per person
Other combinations can be catered for if you have the space to accommodate more people – please enquire for tariff.
Mat-Work Classes
Classes are limited to a maximum of 12 people to ensure you all receive adequate attention.
Classes are progressive so beginners may require some individual sessions before they are able to join an existing class at an appropriate level.
Private Sessions
You may prefer individual sessions to target your own specific requirements. These are especially recommended if you have an injury that requires remedial exercises to assist rehabilitation.
Both classes and private sessions may involve use of equipment such as exercise bands, pilates balls, toning 'magic' circles, foam rollers and Weights – all equipment required in class is provided except for Stability balls.
Want to have a go at Pilates?…..
If you are interested in giving Pilates a go then don't hesitate to contact us. Please use the details opposite if you have any questions.